Compaction machines have a long tradition at Wacker Neuson. This tradition has its beginning in the year 1930, as Hermann Wacker invents the first electric vibratory rammer. Then, in the fifties, the first vibratory rammer, with an internal combustion engine, makes its entrance – again, a revolution in the industry, as now, autonomous working is possible independent of power cables. The success of the light and flexible compaction machine keeps going. In the meantime, Wacker Neuson offers a wide portfolio of a variety of vibratory rammer models – with the choice of gasoline, diesel or battery drive. This also includes low-emission 2 stroke rammers.
The lowest overall emissions on the market
Wacker Neuson's gasoline vibratory rammers with 2 stroke engines are distinguished by the lowest overall amount of emissions consisting of carbon monoxide (CO), nitrogen oxides (NOx) and hydrocarbons (HC) on the market. This is ensured by a catalytic converter, which is installed as standard. It converts a portion of the CO, HC and NOx emissions into harmless substances. This way, the threshold values of the emission standards are significantly undercut and are also significantly below those of 4 stroke rammers. And this is a real unique selling point of Wacker Neuson, as no other manufacturer offers 2 stroke rammers on the market.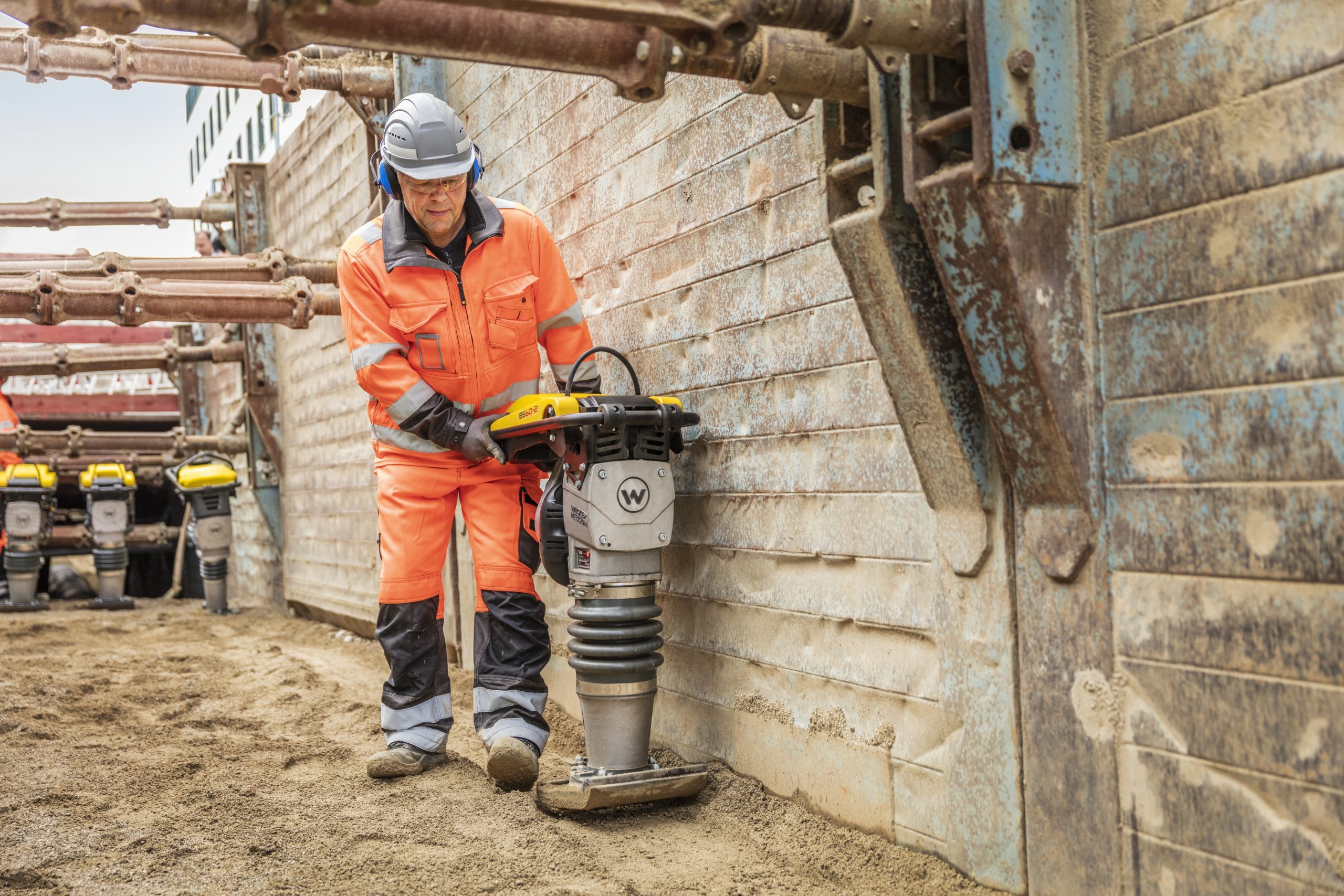 Operator protection comes first
For the operator, this means that, particularly during compaction in poorly ventilated areas, or in trenches or sheeted trenches, he is protected. An aspect that plays an important role for employers. "Low emissions during soil compaction have a high priority for many of our customers; in meetings, the question of this comes up over and over again," says Oliver Kolmar, product manager at Wacker Neuson. "The application of a vibratory rammer mainly involves the concentration of carbon monoxide, a gas that is harmful to the operator's health and often goes unnoticed, as it is odorless and tasteless." In the interest of occupational safety, the construction trade association Berufsgenossenschaft Bau (BG Bau) in Germany recommends the 2 stroke rammers by Wacker Neuson.
Full power
The 2 stroke rammers are powered by the WM80, a 2 stroke engine, which was developed by Wacker Neuson itself and is built in Germany. It ensures not only staying under the legally prescribed threshold values, but also a strong work performance. This guarantees high impact energy, a powerful stroke, high ramming frequency and fast travel speed. Automatic shutdown after ten minutes on the vibratory rammers of the Plus series protects the engine and also enables savings on fuel and emissions.
Always with the user in mind
"Customers appreciate the emission-free vibratory rammers especially for their performance, durability, low weight and excellent handling," adds Oliver Kolmar. And this is how Wacker Neuson's calculations pan out in always keeping the user in mind in development. "It's often the small details that make all the difference on the construction site. For example, this is why we equipped the 2 stroke rammer with just one lever for idling, start, stop and gasoline supply – for more pleasant working." The feedback proves him right. Comfortable working conditions on the construction site look exactly like this.
The 2 stroke rammers of the Plus series offer an even bigger workload reduction: Beside the advantages of the classic 2 stroke rammers, they have two separate tanks: one for fuel and another for 2 stroke oil; premixing is no longer necessary. The fluids are filled separately and the oil injection system automatically generates the correct gasoline/oil mixing ratio – done! One oil tank filling is enough for around 120 operating hours and the oil tank can be locked with an optionally available lid. This eliminates incorrect filling – for simple operation, increased service life and ideal performance.
Expert in matters of soil compaction
Along with the large selection of vibratory rammer models, also including battery-powered rammers, 4 stroke rammers and diesel rammers, there are many other machines for soil compaction in Wacker Neuson's range. Whether it's asphalt compaction, working in trenches or large-area compaction applications – the wide assortment of vibratory plates and rollers offers the right equipment for every application case. Learn more about the application of a wide variety of compaction machines in the Munich inner city in this article.
Wacker Neuson is proud to be a global brand. Products and services vary from country to country and may not be available in your local market.
We would be pleased if you share our article or leave us a comment!